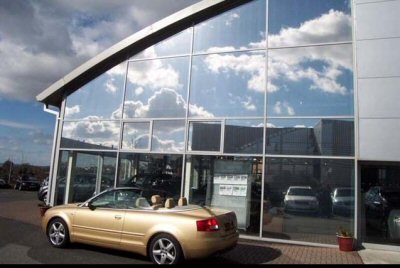 Solar and UV Protection Films
Solar and UV Protection Film by ADS Window Films UK
Solar and UV Protection Window Film are specialty films applied to glazing which provide a 'transparent insulation', helping to significantly reduce the amount of heat and glare from the sun, entering your property. The application of Solar Window Film can: -
Reduce heat by up to 75%
Reduce glare by up to 95%
Reduce harmful UV radiation by up to 97%
Solar Insulation Film works throughout the year to even out temperature highs and lows, providing a consistent environment to your home or place of work. In summer, films can reject up to 75% of heat and reduce glare whilst still allowing visible light in. In winter, however, the film acts to reflect escaping heat back into the building, significantly reducing heating and ventilation costs to your property.
Contact ADS Window Films now on 01752 252583 for a free quote
A secondary benefit of Solar Window Films, the blocking of damaging UV rays, reduces interior fading to your carpets, drapes or furniture, thereby prolonging their lifespan and saving you money in the long run. Why not contact us now to discuss any safety and security window film requirements you may have.
Complete Window Film Range
| | | | |
| --- | --- | --- | --- |
| Privacy films | Glass laminating films | Safety films | Window films |
| Window tinting | Solar films | Heat reduction films | Fade reduction films |
| Car/auto tinting | Frosted windows | Smoked windows | Reflective window films |
| Bomb blast films | Bomb blast mitigation | Edge retention films | Security films |
| BS 6206 standard films | Architectural films | Decorative films | Mirror films |